"There are years that ask questions and years that answer" – Zora Hurston
The Harvest – 2009 24 x 30 - acrylic. Symbolizing what we women do on a daily basis worldwide. We sow, we nurture, we feed, we reap & we overcome. Used on McGill University SEDE 2009 calendar & the International Museum of Women website. © Cheryl Braganza
In 2008, given 3 weeks to prepare an acceptance speech for the Montreal Woman of the Year award ceremony, I was suddenly confronted with myself. "Who am I?" , "Why am I?", "How am I?". Provocative questions indeed especially for the first Indian woman to receive this honour, from none other than the Montreal Council of Women, established in 1893. Long ago, I had fallen into the habit of seeing myself as others saw me or what was expected of me. This time, it would be a perilous journey which would plunge me back into the past.
I was born in Bombay, India and grew up in Lahore, Pakistan. The name Braganza is Portuguese because our ancestors were from Goa, located on the west coast of India and occupied by the Portuguese for 400 years. We were originally Hindus, but our names and religion were imposed on us by Portuguese colonizers.
My father owned Braganza Hotel across from the historic railway station in Lahore. During the partition of 1947, our hotel was used as the headquarters for the Muslim League and by the British army, both of which were involved with the transfer of power. Hindus and Sikhs would hide in the hotel for days and be massacred as soon as they stepped outside. My parents were so traumatized by what they saw that they refused to talk about it for decades.
My childhood exposed me to extremes, to those who were affluent enough to come to the the hotel and those who had to beg right outside the iron gates. When I was six, an old woman would sit on the road and smile at me on my way to school. I used to wonder how this woman, who had nothing, was still able to smile. Then one day, her body just lay there, crumpled up. People were gathered around her and stared. So did I. She was dead. No one picked her up for a long time. And the smile I had got used to on my way to school was gone forever.
Growing up, I was shy and very reserved in front of my Muslim classmates. I don't remember ever meeting a Muslim boy and even though I had a brother, I never met his friends. I attended a convent school run by Belgian nuns, then later a womens college run by American missionaries. In school, I was never asked to give my opinion on anything. Never. We learned textbooks by heart and the closer one got to the exact text, the higher the marks. Home was not that different. No one asked for my opinion. I just obeyed. I kept close to the text.
In the Sixties the opportunity arose for language study in Rome and subsequently London, where I studied classical music at Trinity College. Much to my dismay, all the young people I met questioned everything. When I was asked a question, I didn't know what to say. I really didn't know what I thought about anything because up to then, textbooks and elders had spoken for me.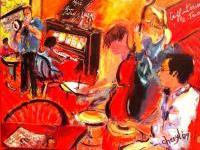 Griffintown No. 3 – 2009 16x20 – acrylic. Part of a series I completed when I played the piano with a jazz band at the Griffintown Café last year. © Cheryl Braganza
I often get asked what brought me to Montreal. The truth is I followed someone I had met in London. As most happy endings go, I arrived too late to cement the romance! Rather than return to London or to India, I decided to explore the New World. Landing a job on the 37th floor of Place Ville Marie at Air Canada in my first week made all the difference. I had never been in a building past 4 stories. Suddenly, I was one with the sky. I could dance with the snowflakes, merge with the clouds, feel the swirl of the wind. Thus began my love affair with Montreal.
I stayed in a girls hostel run by nuns on Laurier. In the cafeteria I would meet other young women arriving from countries I had never heard of, embarking on similar journeys of discovery. While we sat and shared stories, I did portraits of them in pastels and played the piano while they sang. Those were the magic days of Drapeau's Expo 67. I was swooning over Pierre Elliot, taking sculpture classes at l'Ecole de beaux arts and spending weekends scouring corners of Old Montreal to record on canvas. I loved everything about the city: the streets, Mont Royal, the French signs, the way the colours changed with the seasons and especially seeing the astonishment when I spoke in French. I understood then that language was, and is, such a powerful key to dialogue and understanding.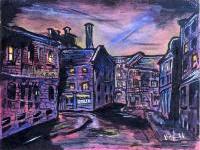 Le Marché - Vieux Montréal – 1966 9x12 – gouache on paper. Last one left of the group of paintings that sold for $25 in 1967 © Cheryl Braganza
At group exhibits, my brownness would spark lively discussion about origin and culture. I began to re-evaluate my identity as an Indian woman. On my palette however, the paint colours were considered garish as Canadian artists were using subdued and de-saturated shades. In a desperate attempt to conform, I adjusted my colours. I sold two paintings for $25 each at an Expo 67 art exhibit. "They only sold because they were cheap," snapped a man who was exhibiting at the same show. Undeterred, I did the round of the galleries in Old Montreal where I felt like an exotic parrot among sparrows. "Your paintings are not 'Canadian' enough," was the boring response.
Marriage took me in the late 70's to Lac St. Jean, where English was non-existent except in ghettos like Arvida, where we lived. A few blocks away in Jonquière, art transcended in a lively cultural milieu. Le Centre Culturel invited me to do solo shows and to teach batik. I was interviewed regularly on the radio, TV and newspapers in French. I posed no threat to the culture.
Snowbound – 2002 24 x 30 - acrylic. Capturing the feeling of entrapment. Today many immigrant women in Montreal struggle between culture & the weather. © Cheryl Braganza
Returning to the vastness of Montreal with our three sons brought with it experiences of suburban racism against our family, leading to feelings of inadequacy in myself. Then came divorce and the challenges of starting a new business. I took a course in Assertive Training for Women where I felt the comfort and support of other women. The moderator made us write down the antidote to shame. I wrote down my strengths: Piano, Poetry & Painting. I began to reclaim my Indian heritage. Like a tropical storm gathering momentum, that shy young girl who could never speak up then, now galvanized herself as a woman to speak out and speak up. Little did she realize that she would need to rally all her forces to battle her oncoming cancer, multiple myeloma, which crushed her spine.
It is 2010 and I joke that I have long since been 'dethroned' as Montreal Woman of the Year - but the crown has left its mark. I am deeply steeped in city life, this city of Montreal that is cosmopolitan, vast, complex and political. I am involved as an artist, a pianist, a writer, a poet, a woman's rights activist, a Buddhist, a film-lover, a public-speaker, a cancer survivor and a philanthropist. I am a mother and a recent mother-in-law. I am also a friend. I am proud to call myself a Quebecer mais plus fière d'être une Montréalaise.
I need to be all of these and more to survive. I look forward to a bright future.
Cheryl Braganza
MONTREAL MOSAIC ONLINE MAGAZINE
Montreal, March 21, 2010
www.cherylbraganza.com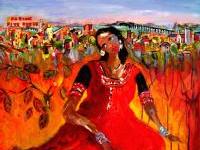 La Montréalaise – 2007 – 30x30 – acrylic. Self-portrait in front of an exciting Montreal panorama of changing seasons. Farine Five Roses prominent as always... © Cheryl Braganza
Braganza Hotel (1888), Lahore – 2004 - 16x33 - oil. This is where I grew up. It was demolished in the 70's. © Cheryl Braganza